Archives
Welcome New Candidates!
Cicero Firefighters Local 717 would like to welcome the newest members to the department and wish them a long successful career: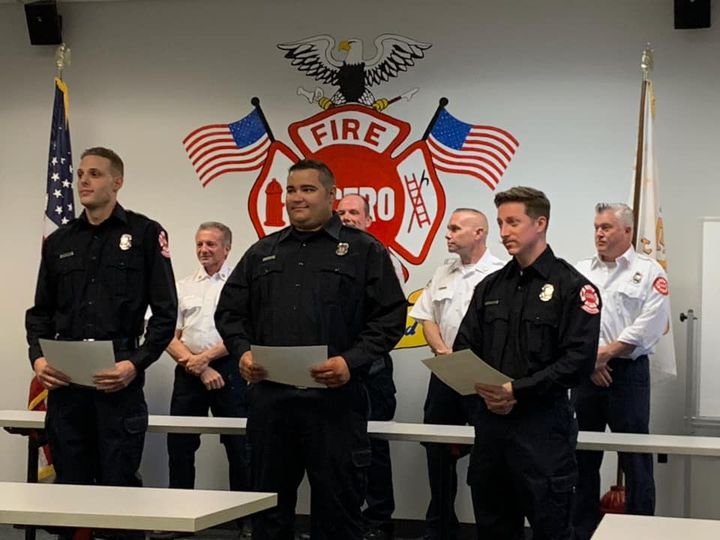 FF/PM James Aitcheson, FF/PM Anthony Maggio & FF/PM Zachary Marcolini
Congrats to the Newly Promoted Members!
Lieutenant Paul Lyttek to Assistant Chief
Engineer Dan Pedretti to Lieutenant
Engineer Kyle Betke to Lieutenant
Pipeman Christopher Quelette to Engineer
Pipeman Anthony Magana to Engineer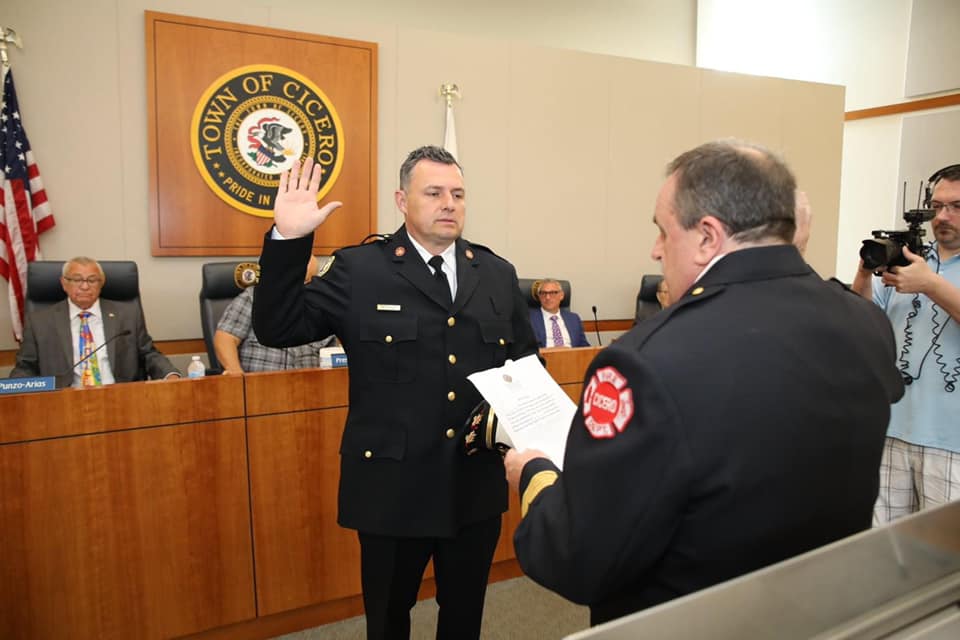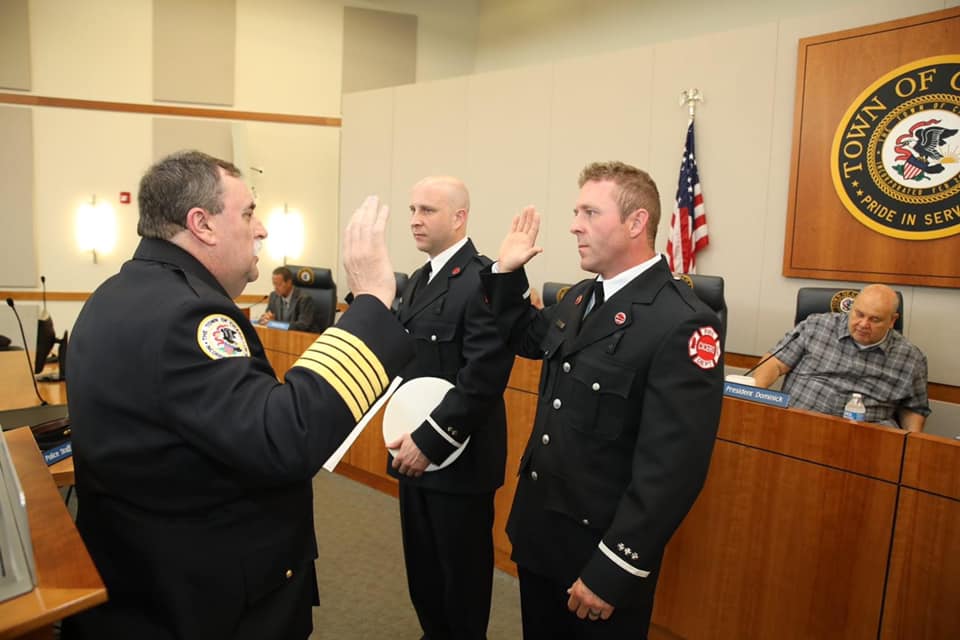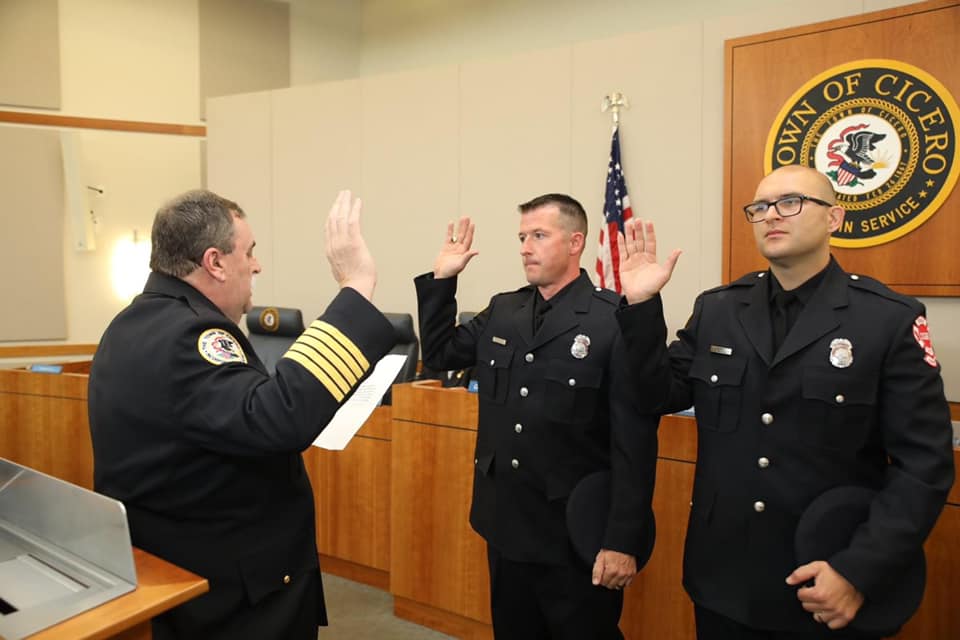 Cicero IAFF Local 717 takes over Ambulances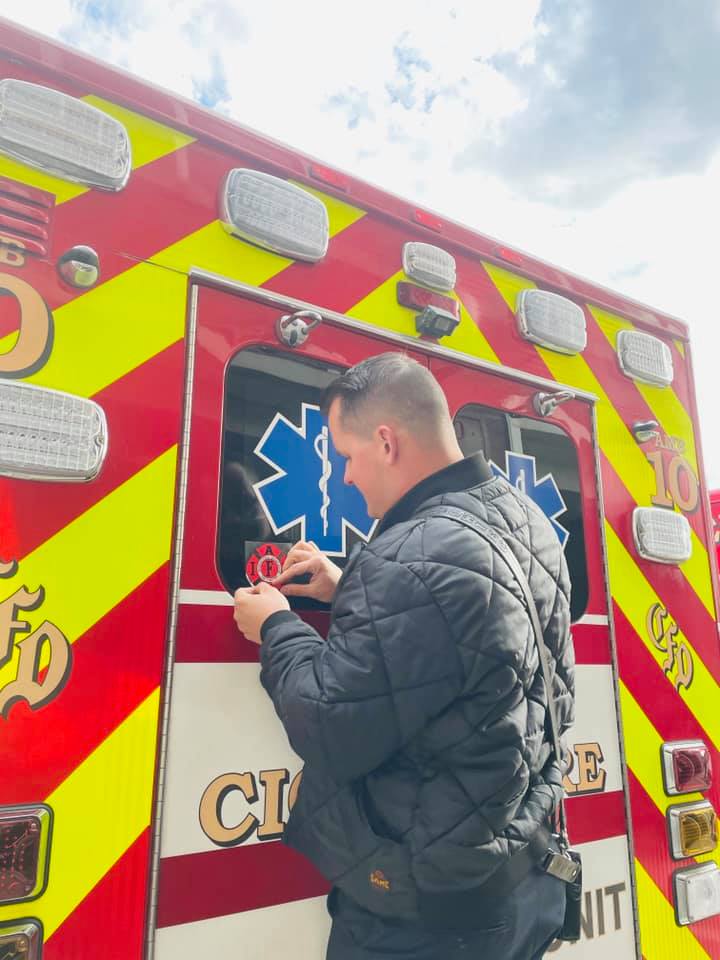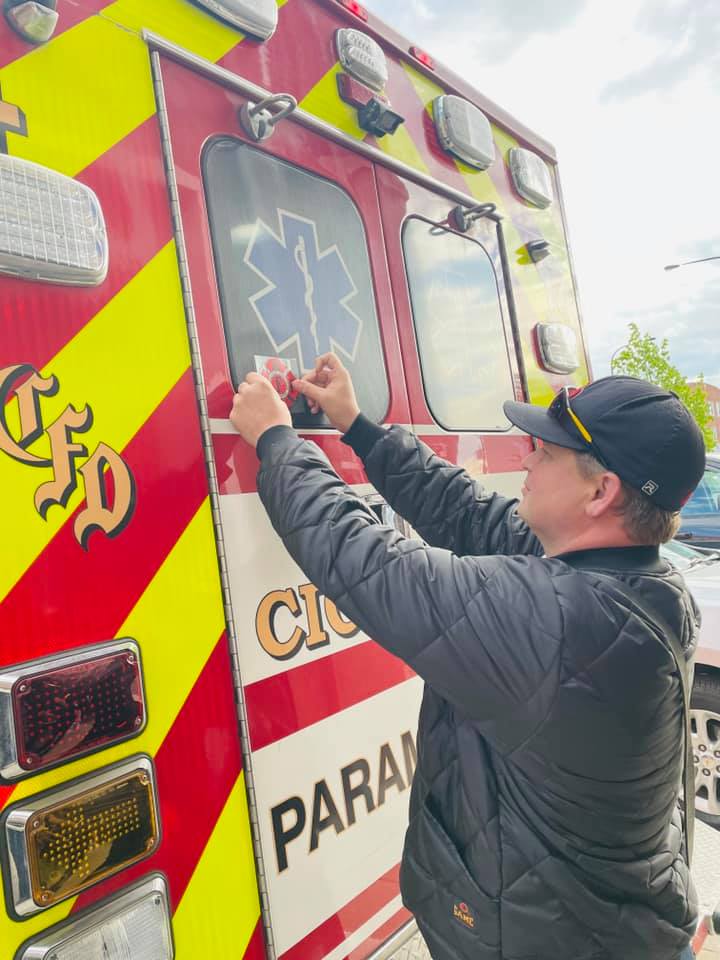 May 1, 2021-Today marks a day in the history books for the 717. At 0730 we officially took over the ambulance service for the Town Of Cicero. Its also only fitting that we have gained more union jobs on #mayday or know as International Workers Day. Thank you to the members of the associated firefighters of Illinois executive board that attended this morning.
Chief Dominick Buscemi Retirement
The 717 would like to congratulate fire chief Dominick Buscemi on his 30 years of service! Chief Buscemi will go down as one of the most pro-labor chiefs the department as ever had. During negotiations Chief Buscemi was constantly working with the union to obtain the most fair and equal contract possible. Without Chief Buscemi's willingness to work with the union, our current contract would not be what it is. Increasing our man power by almost 30% by making the ambulance service union jobs. Chief Buscemi was always there for the guys. If it was handing out Christmas presents, responding to fires on cold winter nights from home, or sitting by in the hospital after a firefighter was just injured. Thank you again Chief Buscemi and enjoy your retirement!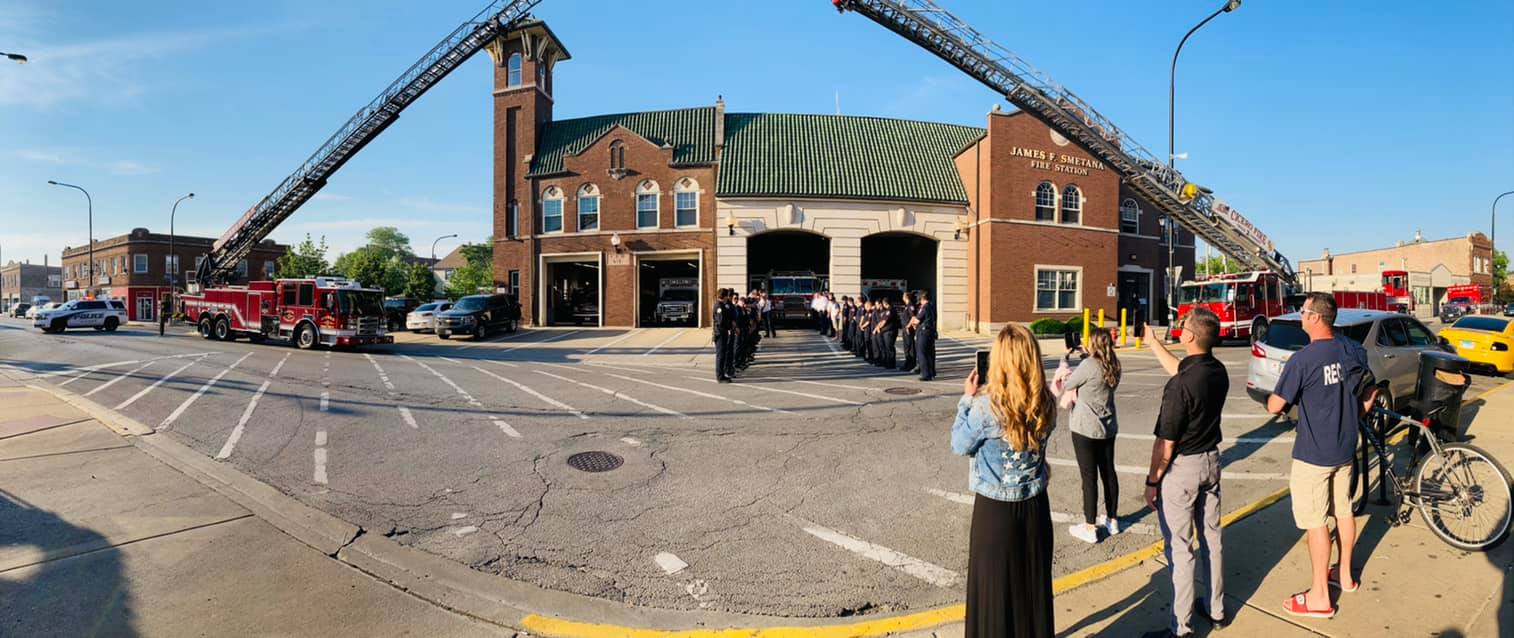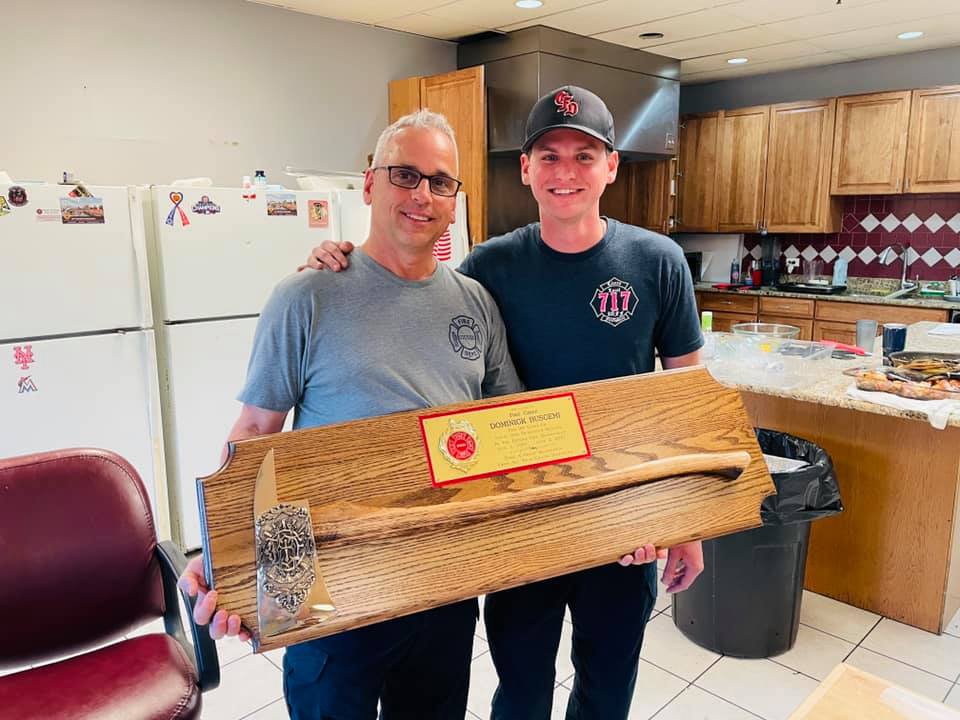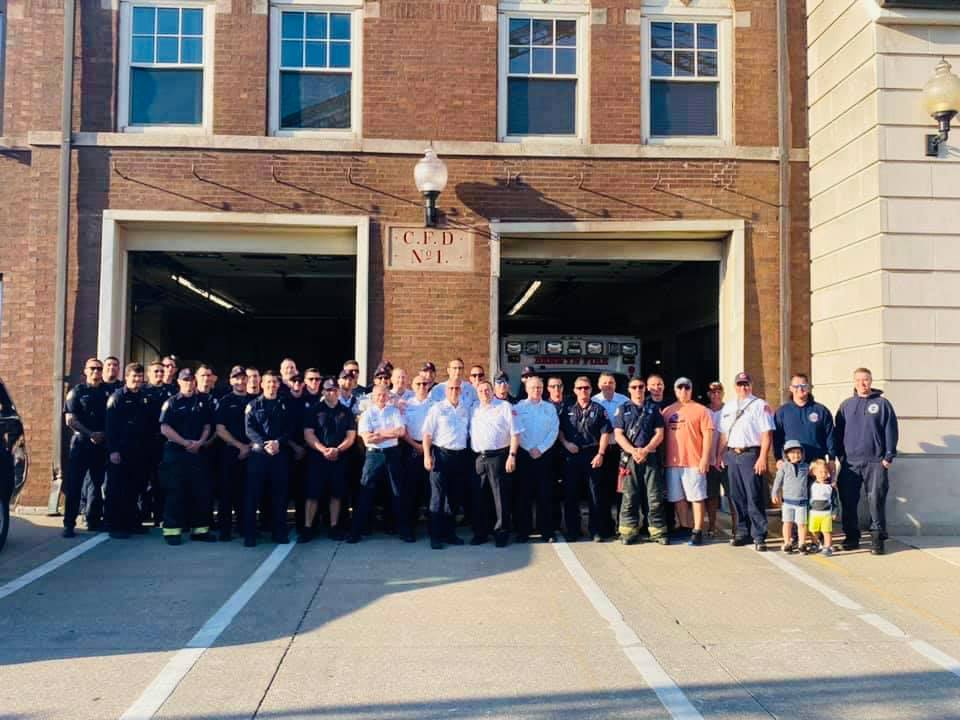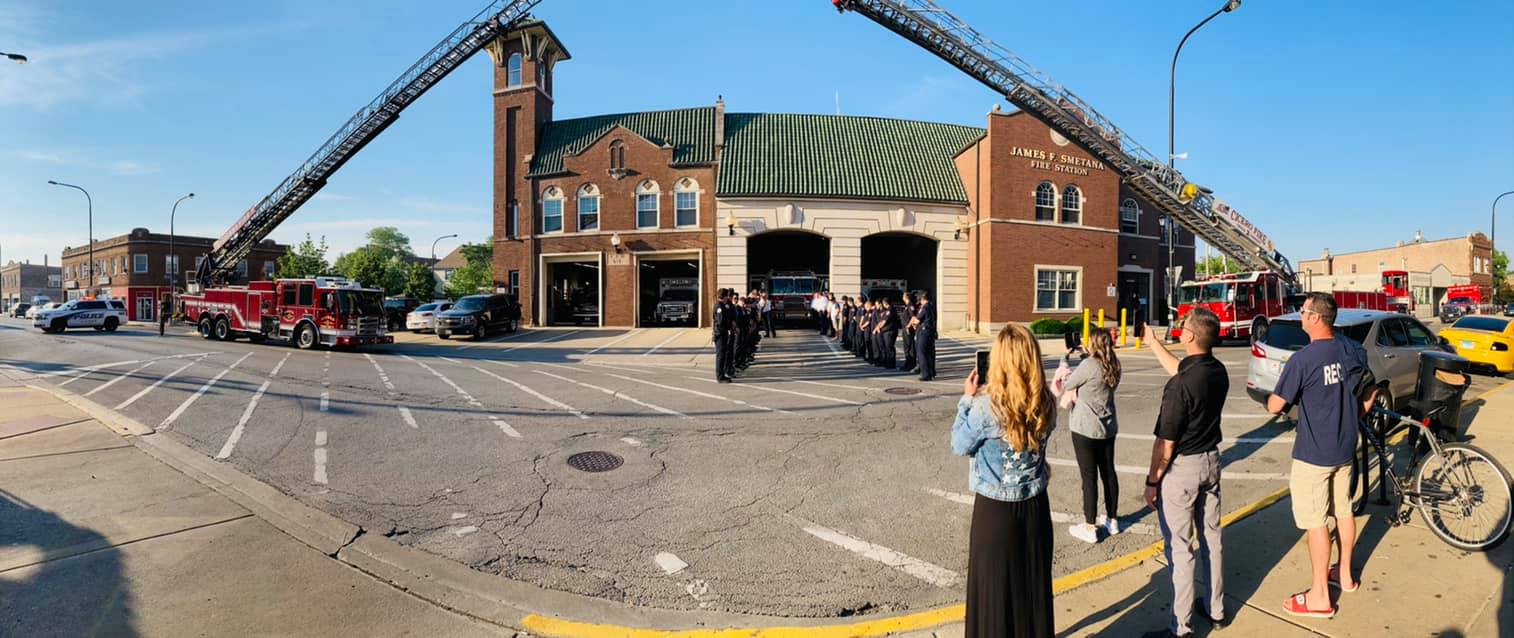 Assistant Chief Pat DeChicio Retirement
June 1, 2021, after 32 years of service Assistant Chief Pat DeChicio is retiring. Chief DeChicio is retiring as one of the most respected guys on the job. Before becoming a chief, Pat served as a Lieutenant and our Vice President for multiple terms. As Pat had the guys back as VP, he carried that with him as a chief. Pat has one of those personalities that you know when he's in the firehouse, a presence. As we are sure the stories of Pat DeChicio will vibrate the walls of our firehouses for years to come, he will be missed. Good luck with your retirement Chief!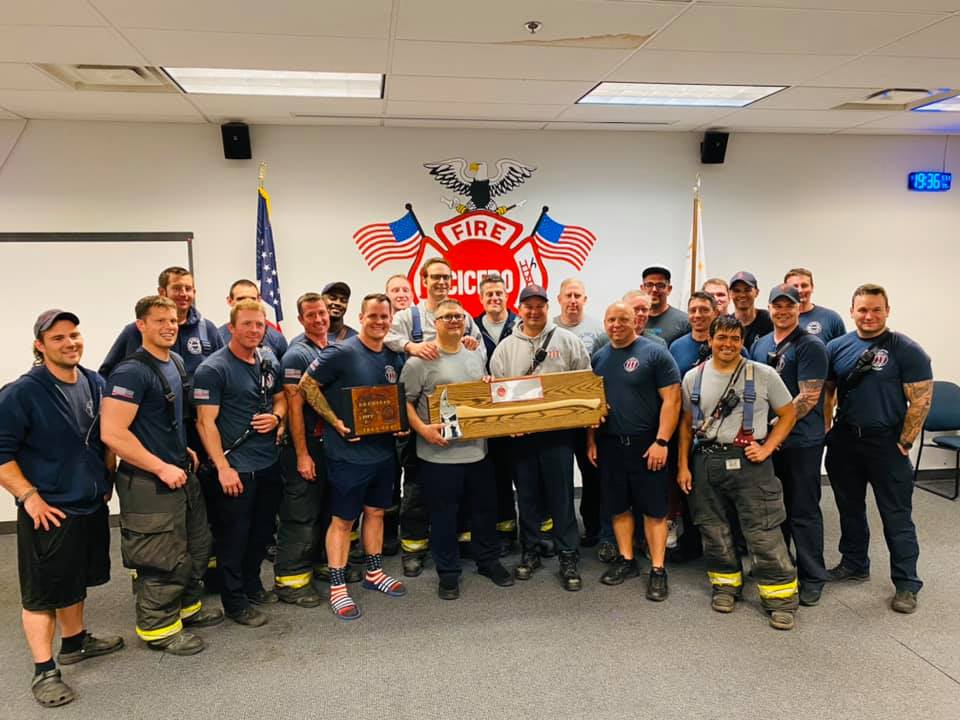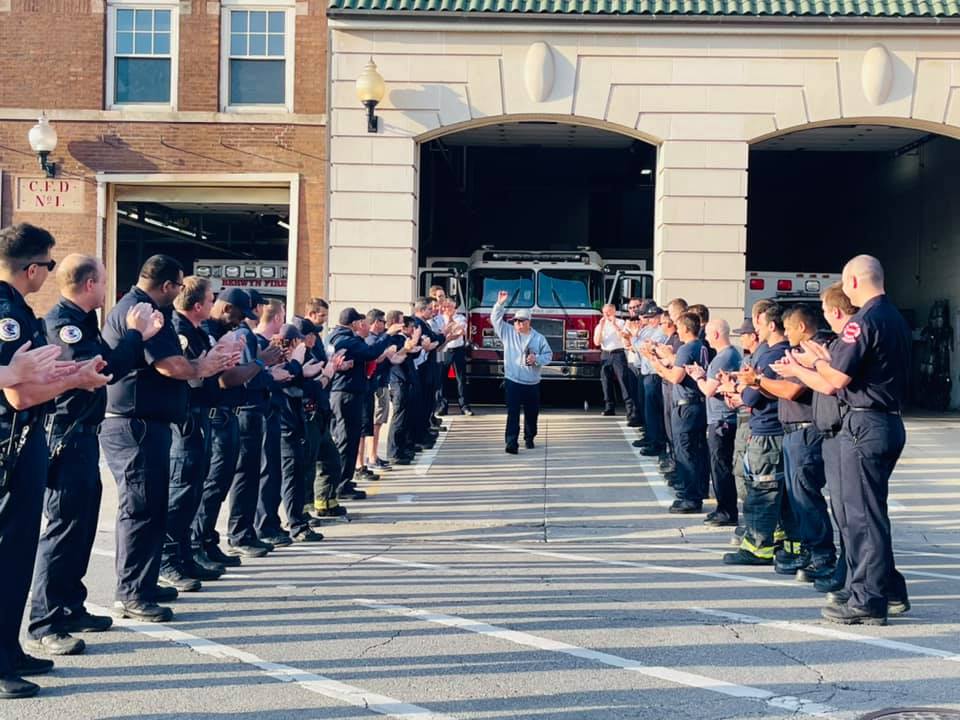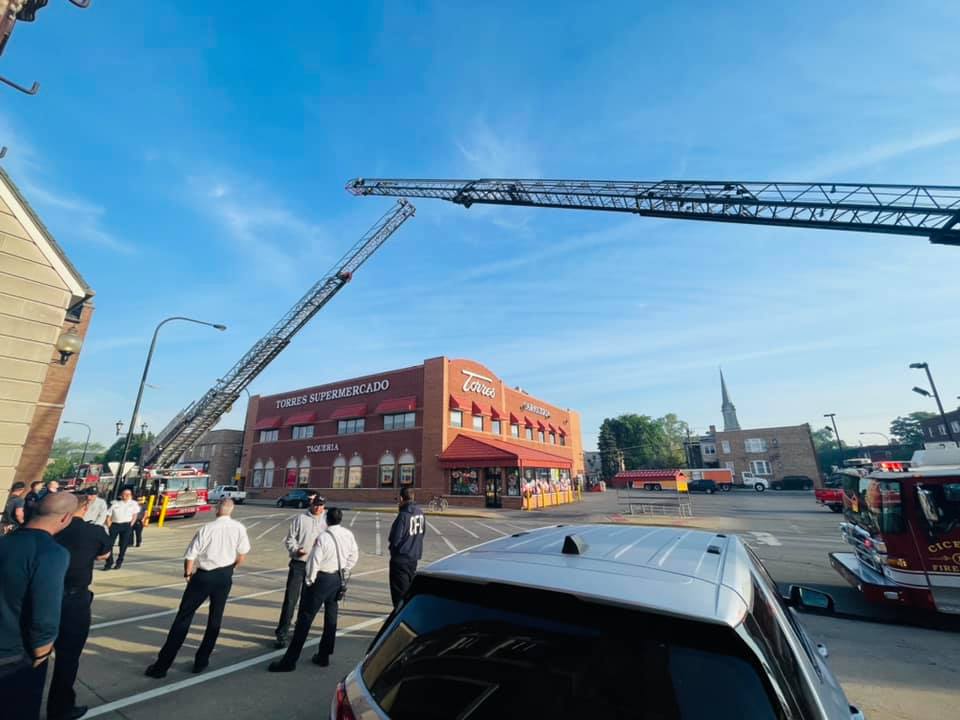 Aaliyah got to ring the bell!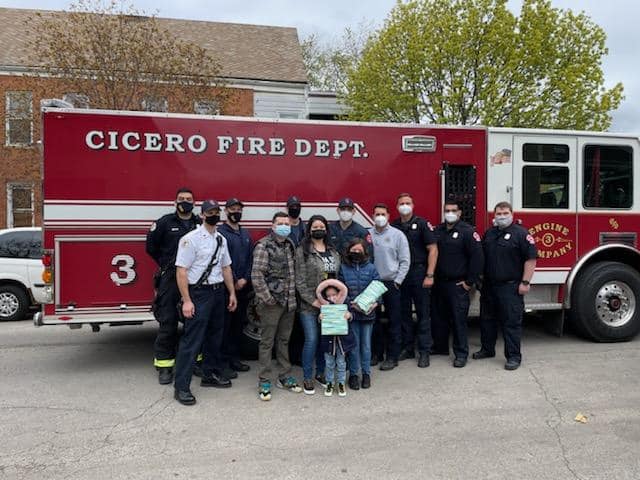 Aaliyah got to ring the bell! She beat cancer!! Star Treatments and Project Fire Buddies collaboration was a huge success! Huge thanks to Cicero Firefighters Union Local 717 for making this possible! They delivered several gifts along with a emergency vehicle escort for Aaliyah's Star Treatment limo ride. Thank you to all of our supporters for making these moments possible!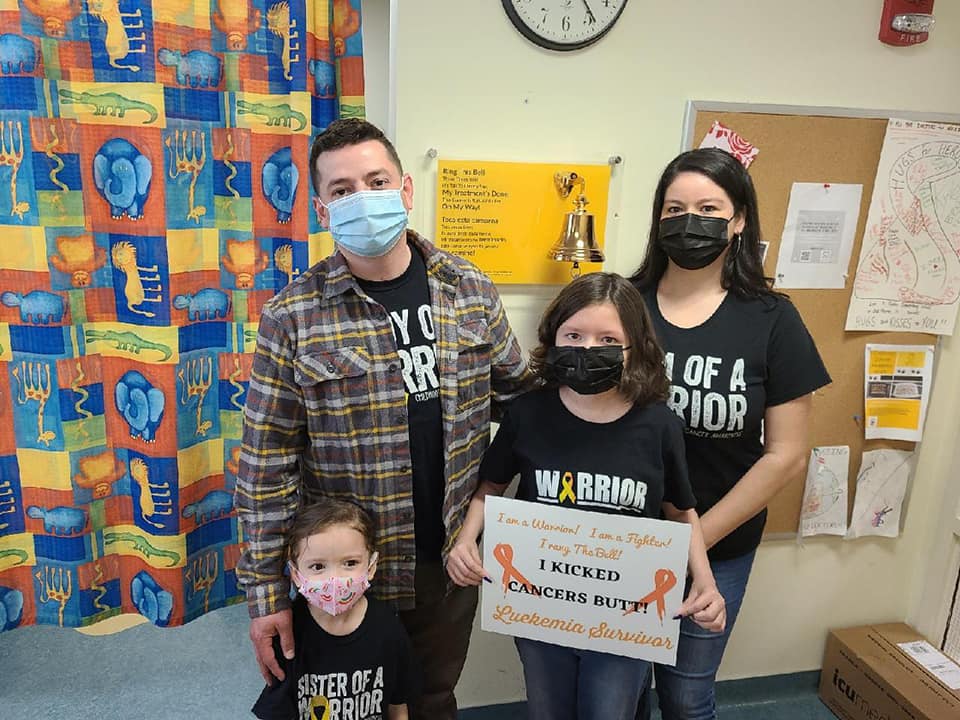 'He's Truly A Hero': Off-Duty Cicero Firefighter Rescues Two Men From Burning Building In Lyons
February 19, 2021- CHICAGO (CBS) — An off-duty Cicero firefighter is being hailed as a hero, after rushing into a burning building in Lyons on Friday to rescue two men who were on the smoke-filled second floor.
Cicero Fire Department Lt. Brian Kulaga said he was out running errands in Lyons on Friday afternoon, when he spotted a fire in the second floor apartments above Waterworks Tavern at 7815 Ogden Ave.
He said he pulled his car over and knocked on the door to the bar to tell them the building was on fire, and asked the people inside to show him how to get up to the second floor.
"I found the first resident about eight feet in, walked him out," he said. "Asked him about anybody else in the building. He mentioned he had somebody else up there. I went in. I could hear that gentleman calling for help. Smoke was about a foot from the floor. I just crawled toward his voice, found him, pulled him down to the floor, and dragged him out of the building."
Lyons Fire Chief Gordon Nord said the smoke conditions inside the building would have been "pretty much unbearable."
"He went up the stairs with no protective gear on, with no regard for his life at all, to save two people who were occupied on the second floor," Nord said. "The smoke was about 2 foot, 3 foot off the ground. Brian had to get on his stomach to get in there, to get these people out. He's truly a hero. He saved two people's lives today."
Nord said the fire caused heavy damage to the second floor of the building, while the first floor sustained heavy water damage.
The two men Kulaga rescued were taken to the hospital, and were expected to survive.
Kulaga said, while he's rescued plenty of people from fires while on duty, this is the first time he's done something like this while off duty.
"Probably thought about it 100 times what I would do. Guess I had that chance," he said.
https://chicago.cbslocal.com/2021/02/19/off-duty-firefighter-rescues-two-men-fire-lyons-brian-kulaga/?fbclid=IwAR2X_U0wZ1YgvT0ezn5m0z1PifzBNIM4wPzGTzdz2n044JmpTA4Xf5_aTOo
Promotions & New Hire
Today Cicero Fire Department and Cicero Local 717 would like to congratulate several members on their promotions. Michael Laria to the rank of Assistant Chief of EMS. Noah Buckley to the rank of Lieutenant and Justin Swiatowiec to the rank of Engineer. The membership would also like to congratulate the newest hire FF/PM Steve Schwar.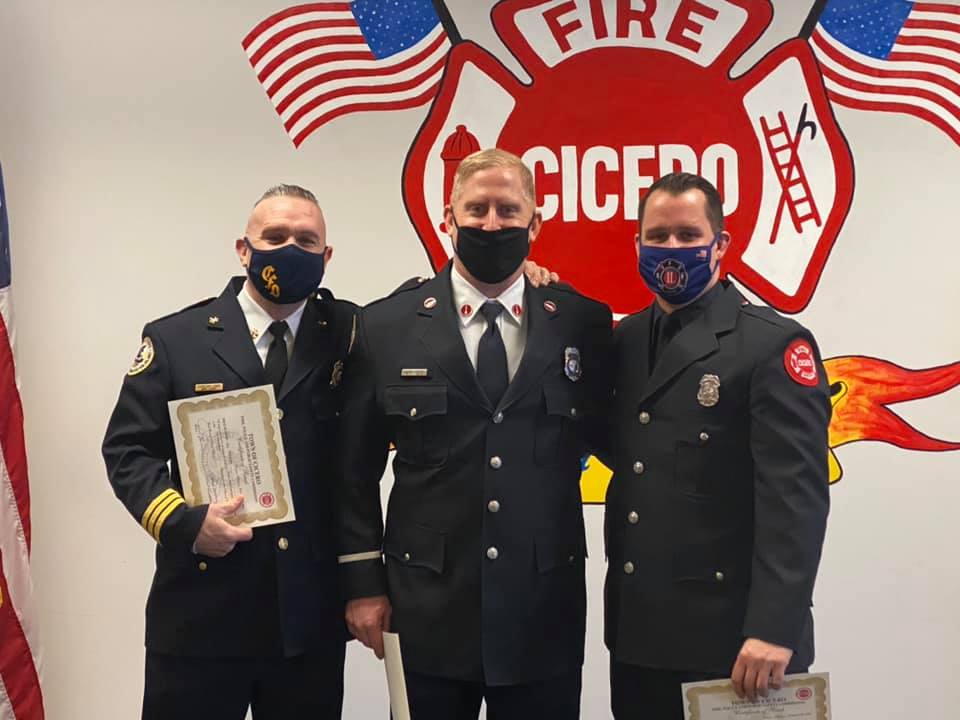 Holiday Donations
December 25, 2020
We had to make some changes with Covid going on but the 717 still was able to find some families to support during this incredibly difficult year. Thank you to all the members that participated!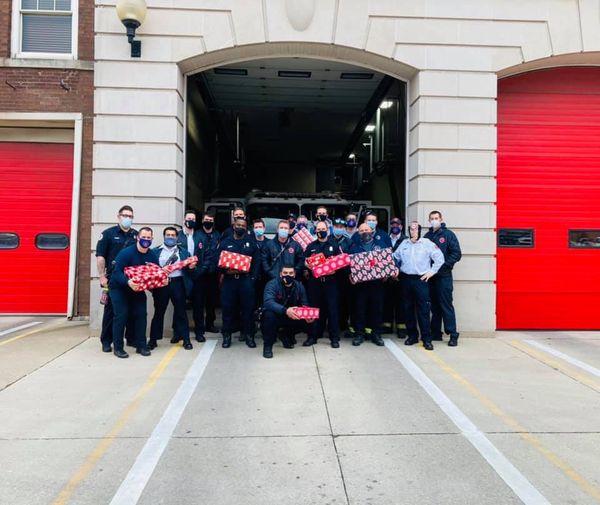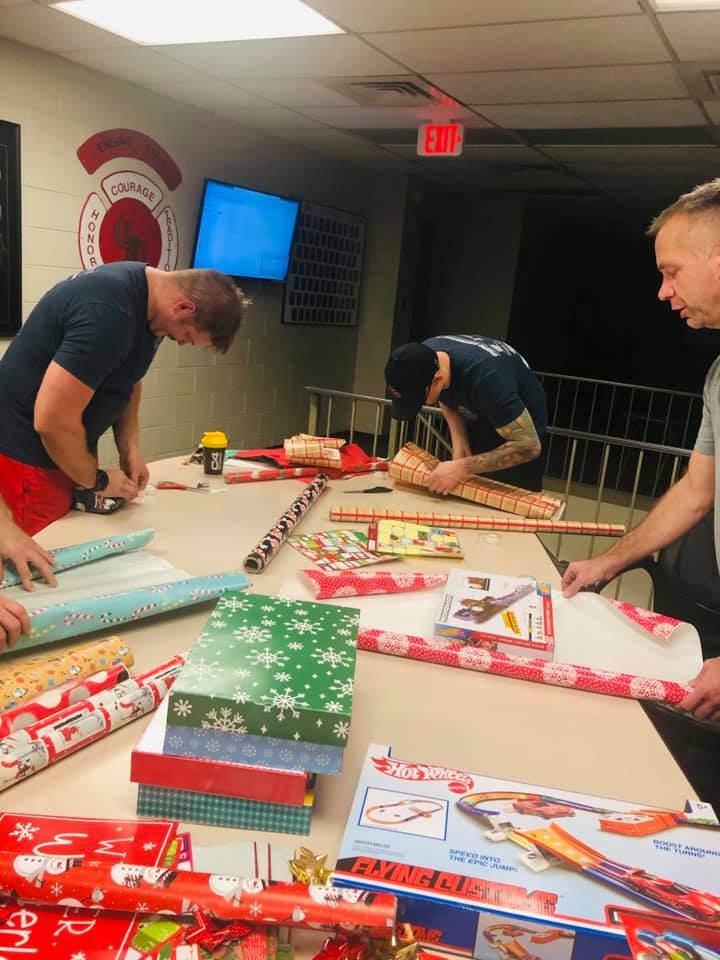 Breast Cancer Research
December 21, 2020
Customized LLC Special thanks to the Cicero Firefighters Union Local 717, we've printed over 600 of these shirts for them since October. They have sold every single one them and made a sizeable donation to breast cancer research!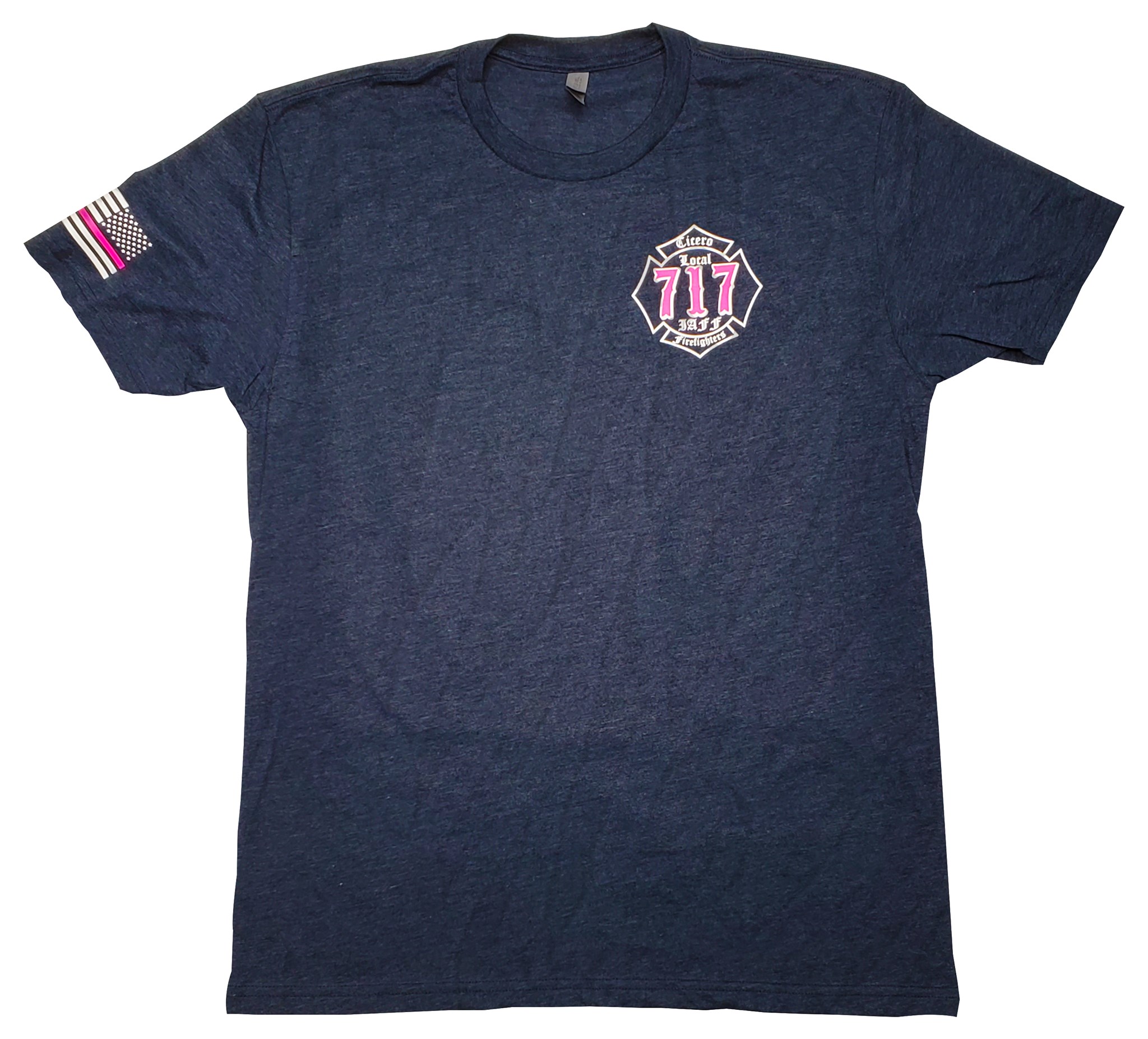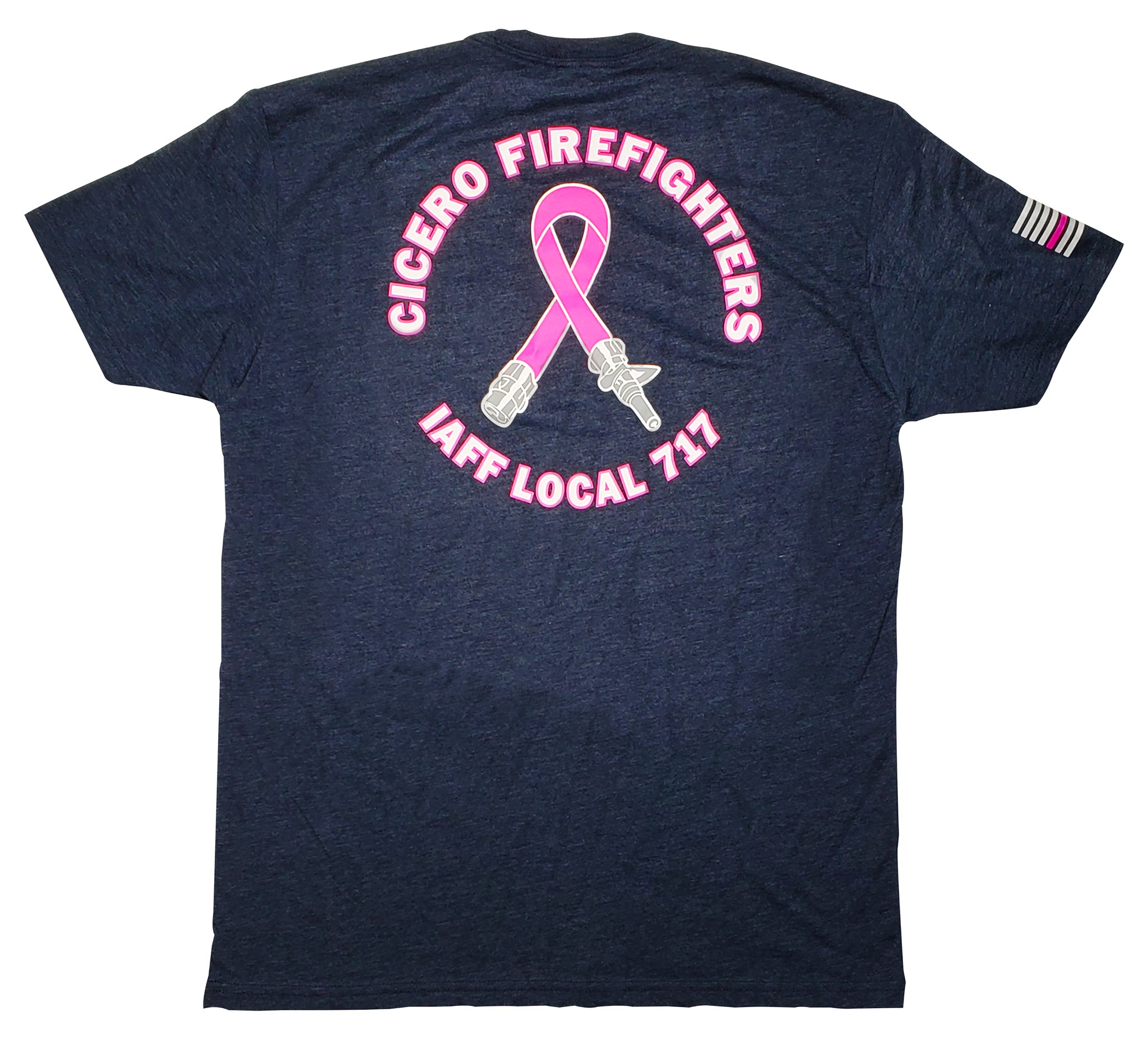 New Hires
December 7, 2020
Today was another historic moment for the 717. With our most recent CBA, the Town of Cicero agreed to hire only qualified firefighter/paramedics. Members have been hired In the past who have held a paramedic license but have NEVER been required for hiring. Today is the dawn of a new era for the 717. Congratulations to our four newest members!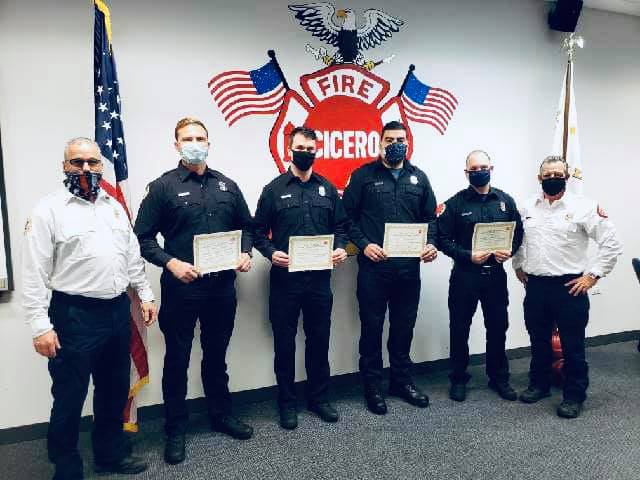 Cicero Fire Local 717 Golf Outing
Cicero Firefighters would like to thank all who came out to support our annual Golf outing on August 7th 2012 at Oak Hills Golf Course in Palos Heights. We would like to especially thank our hole sponsors:
Freddys Pizza, Sam Bucas, Berwyn firefighters L506, Elizabeth "Lisa" Hernandez State Rep 24th District, Charles Hernandez Cicero Township Democratic committeeman, Robert R. Andreas & Sons, Inc. , RMB Heating and Cooling Inc., Crabbys Pub, Friends of Alderman Ted Polashek, Salvino Hauling, Lou Guido, Harolds, The Kempski family, Accurate Accounting Services, Carl f-Semrau DDS, Chicago Extruded Metals, The Wheelchair Shop, Inc., and The Democratic Citizens of Berwyn.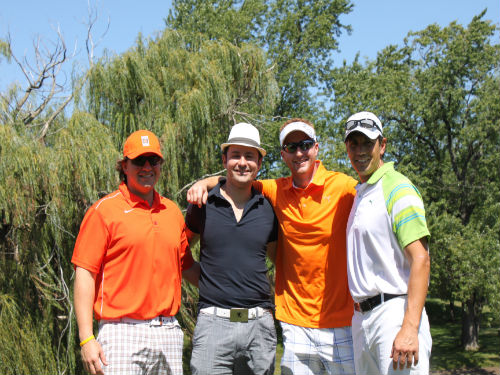 Members of L506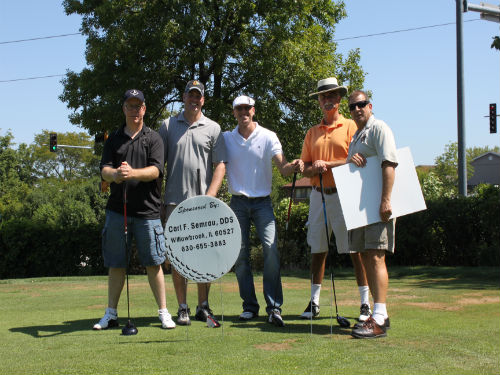 Members of L717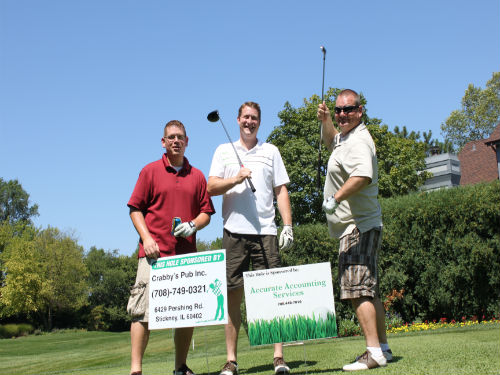 Members 0f L717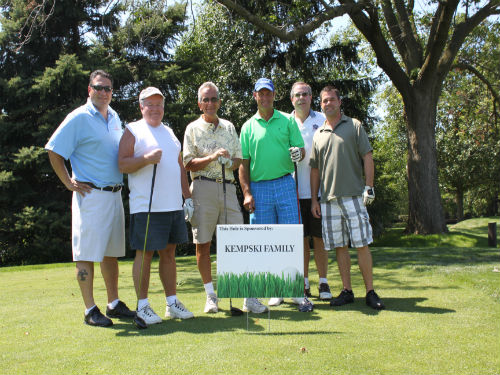 Current Members of Berwyn L506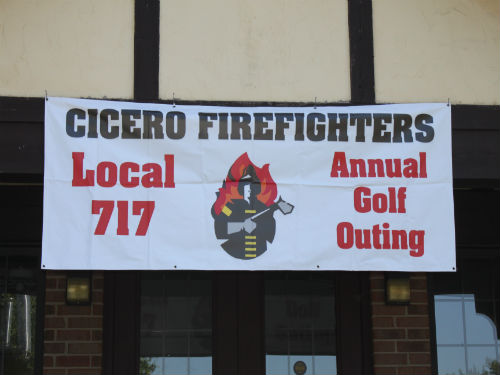 Welcome banner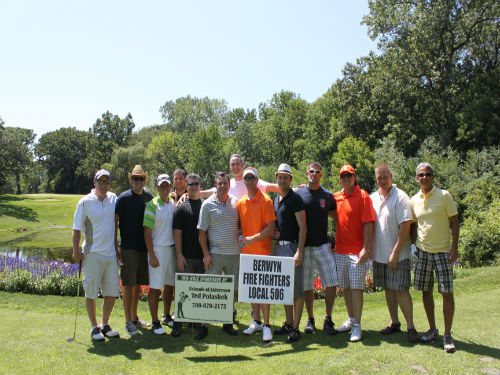 Current members L717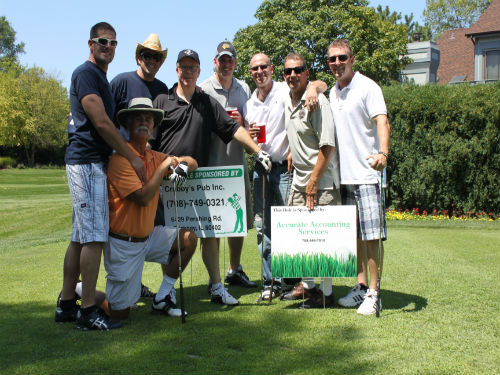 Current members L717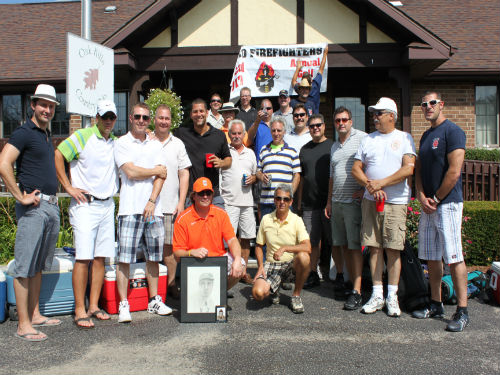 Current and retired members of L717
*Golf Outing photos taken by Engineer Andrew Michaels L717
Promotion of Lt. Steve Fiore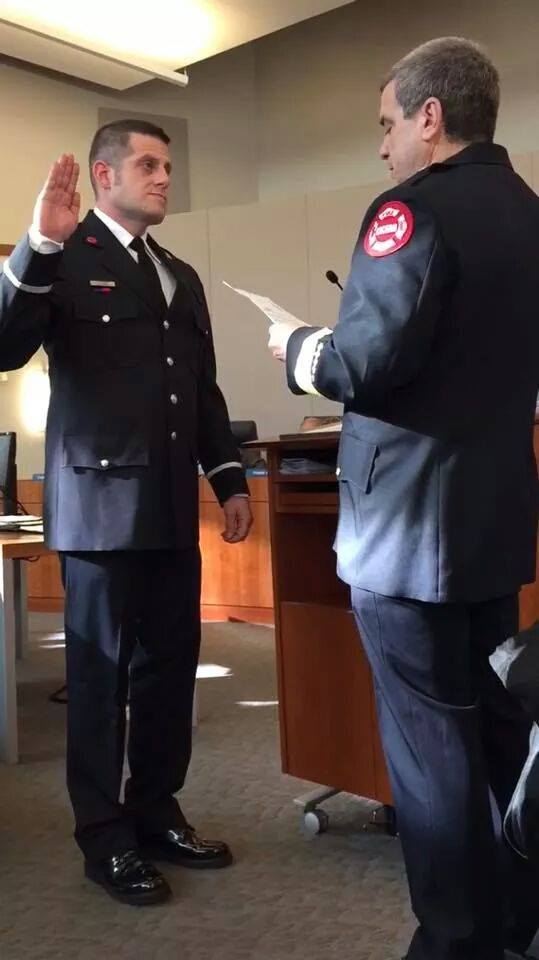 L506 Softball Tournament
Cicero Fire local 717 members participated in the annual Berwyn Firefighters L506 softball tournament on Saturday August 4th in Berwyn.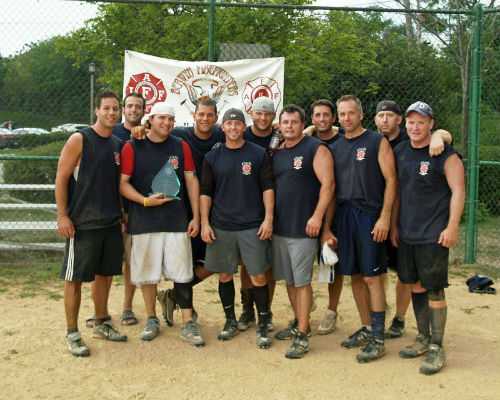 Cicero Fire placed in 1st place. (Photo credit by Engineer John Novacek L506)
Fire Up a Cure
Cicero Firefighters Local 717 & Berwyn Local 506 members participated in the First Annual "Fire Up a Cure." Competitions were on Saturday, July 21, 2012 at St. Xavier University.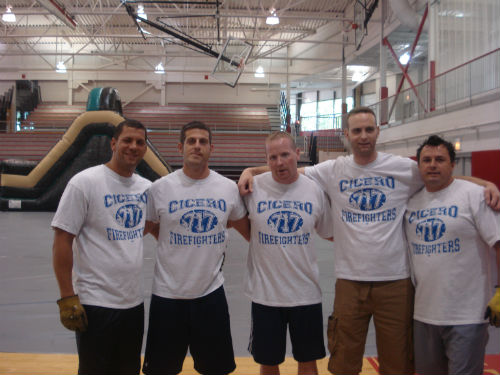 Joe Belgio, Stephen Fiore, Pat Sammon, Andrew michaels and Paul Lytek.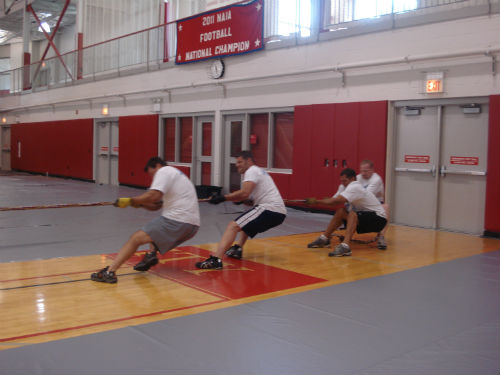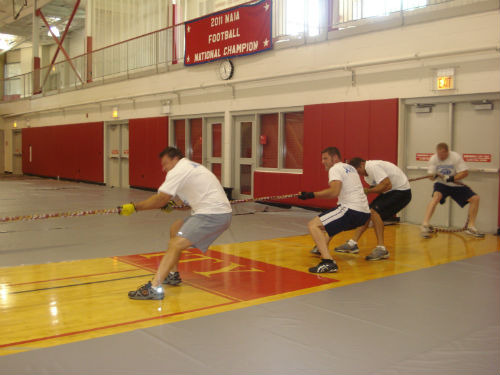 Cicero Firefighters Local 717 members participated in the First Annual "Fire Up a Cure" competitions.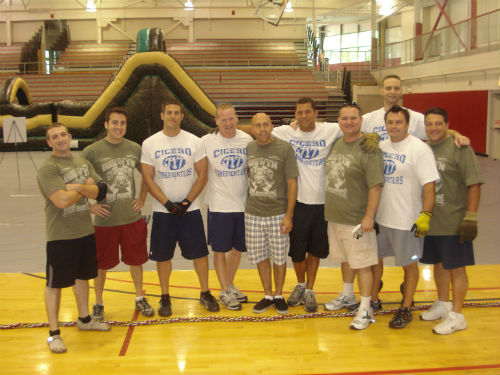 Cicero Firefighters Local 717 and Berwyn Local 506 team up together for one cause.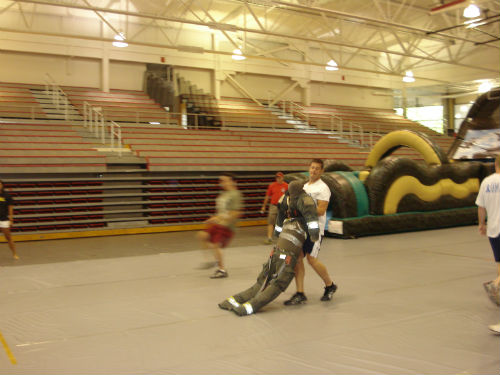 Cicero Firefighter Steve Fiore dragging the dummy in the First Annual "Fire Up a Cure" competitions.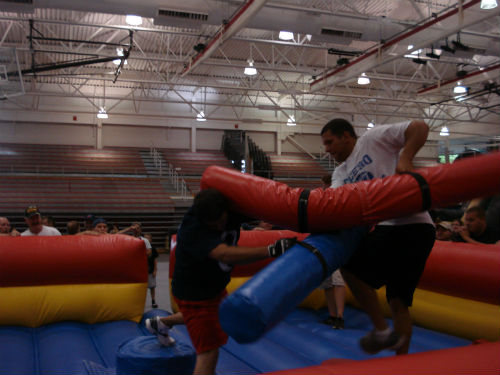 Firefighter Joe Belgio victorous in the joist competition.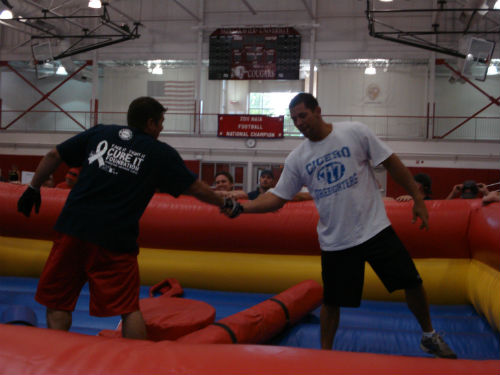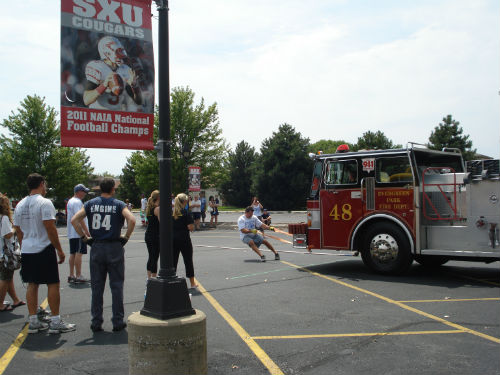 Lt. Paul Lytek pulls a fire engine.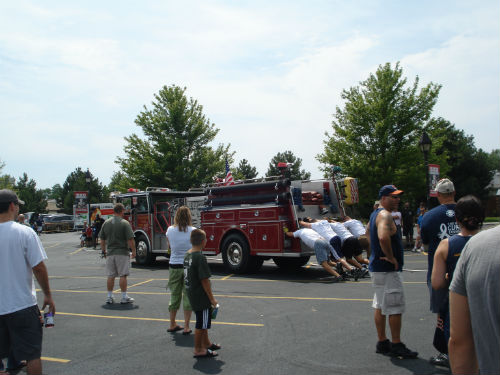 Cicero Promotions
Local 717 would like to congratulate members Firefighter Ken Pereya and Firefighter Brad Erickson, who were promoted to the rank of engineer as of July 24th, 2012.
Local 717 would like to congratulate members Eric Pagni & Harry Rutz, who were recently promoted.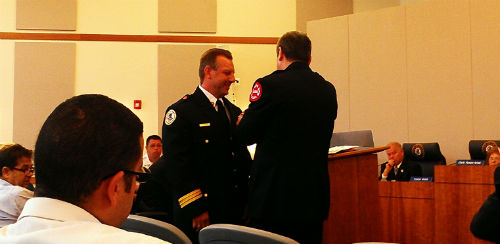 Former Vice President Lt. Eric Pagni promoted to Deputy Chief 7/12/2012.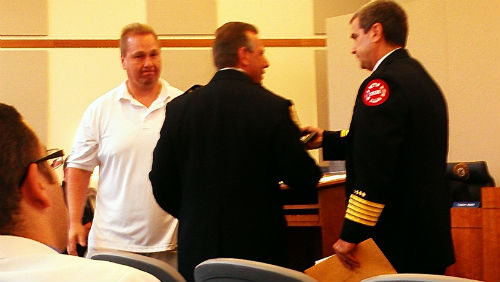 President Eric Habercoss (white polo) presents newly promoted Deputy Chief Eric Pagni with a certificate of appreciation from all his fellow union brothers.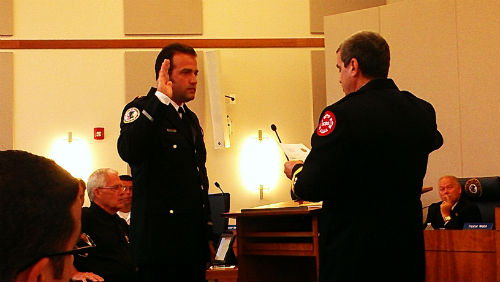 Secretary Harry Rutz being sworn in to Fire Prevention Lt. 7/10/2012
Charity Sled Hockey Game
Cicero Local 717 Members participating in a charity sled hockey game against the RIC Blackhawks pro sled hockey team, this took place Feb. 2012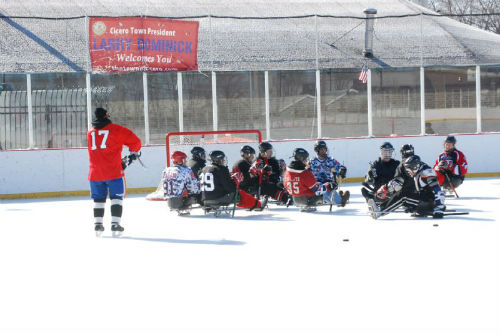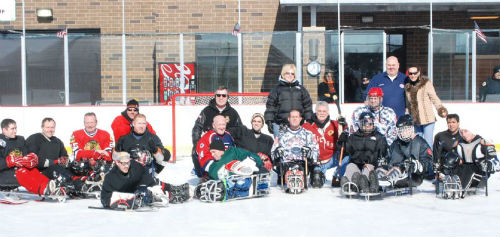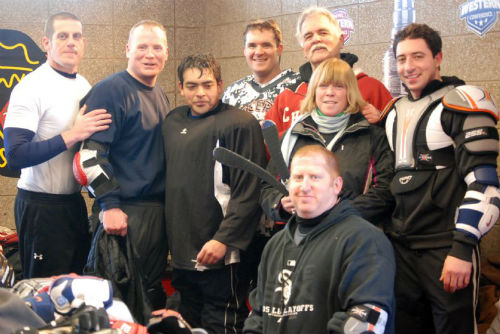 Cicero Brothers support Oak Lawn, Local 3405, distributing literature to inform public of fire department layoffs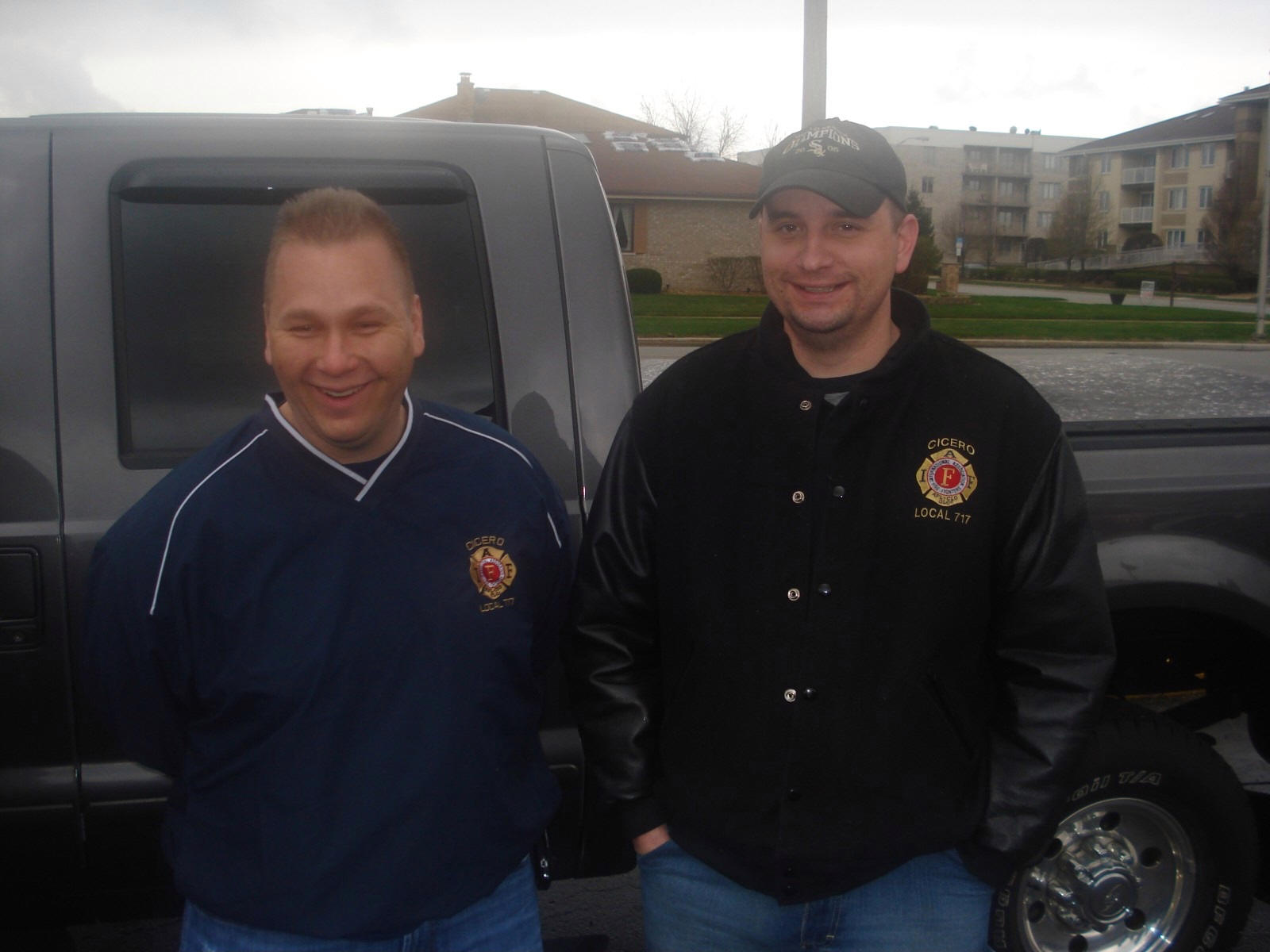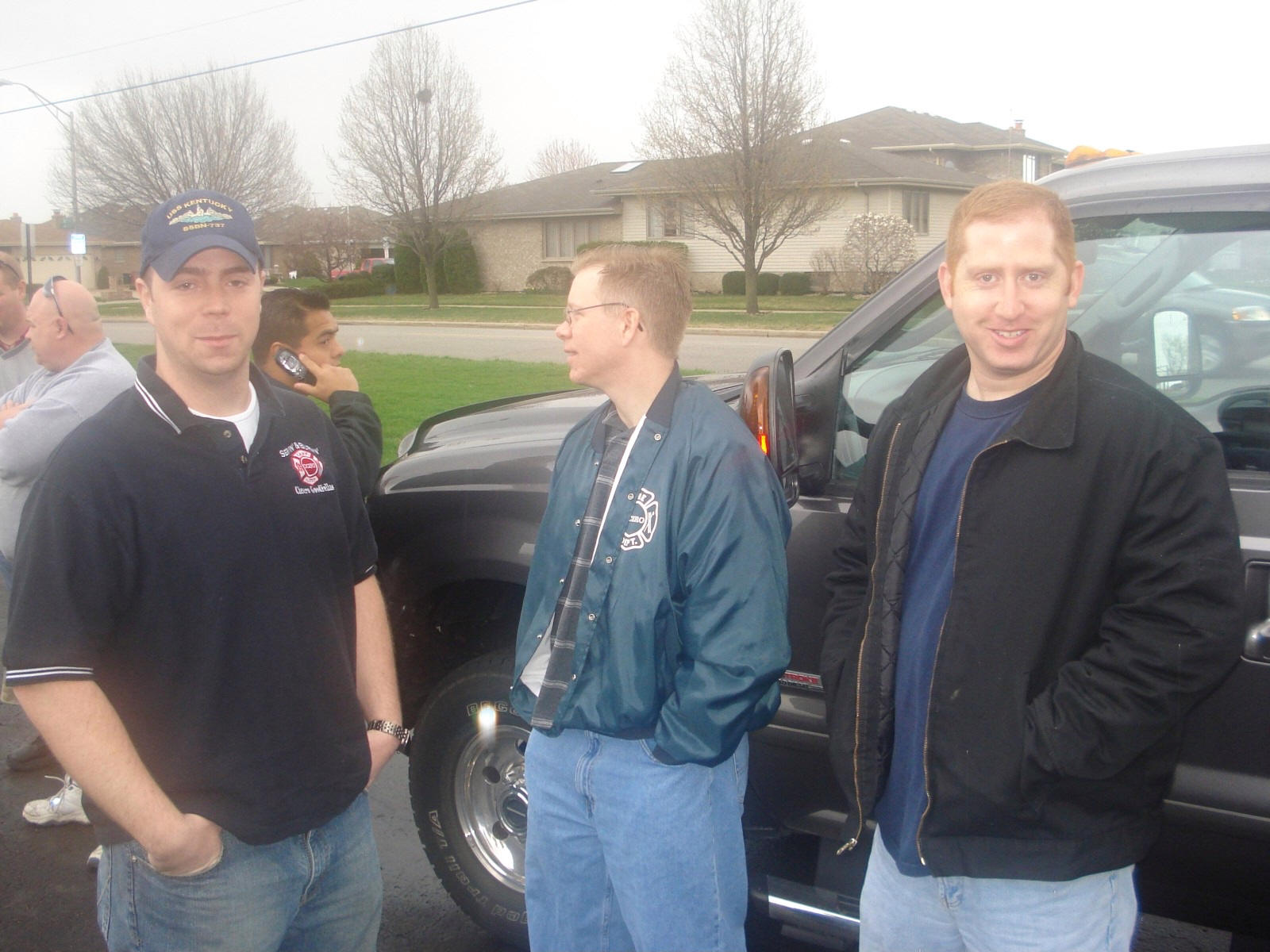 Fire And Ice- From the Paul Harvey News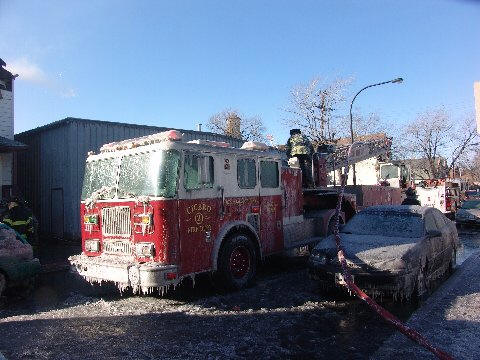 Nobody knows why firemen are firemen. Not even they can tell you why. It's time someone try to tell you why. Firefighting is the most risky of all dead-end jobs yet also the one where most workers are most likely to punch in early. It's hard enough to believe that; impossible to explain it. Fire an ice are uncomfortable, separate or together. Wives hate the hours kids love the noise. Fire and ice.

Any day at the firehouse the bell from hell puts the dispatcher on the horn with a tenement tinderbox address. Into bunker pants- rubber turnout coat- grab the mask-and go. Minutes later you're on site, as others run out you go in. You'll need all you can carry. The four pound axe, a six foot hook, and the Halligen pry-bar. The ceiling concealing the smoldering has to come down and it's one of those stubborn tin ones. In the scary dark with heat eating your ears you are gouging out and tearing loose and pulling apart; gulping air and tasting black; your windpipe is closing and you've lost track of which way is out. Is it worth it?

They've budget- cut your ladder company from six men to five so now everything you do is 16.67% more difficult, more dangerous. Your air is low. Inside your mask you're throwing up. There's a searing ember down your neck; torn gloves exposing a mashed hand so you emerge from the holocaust hugging in your elbows some body's singing kitten. Fire and ice.

You've had minutes of exhilaration on the bouncing rear mount of a screaming hundred-foot Seagrave. Hours of using all you've learned and learning more. Now you're back at the stationhouse. You've unstuffed your nostrils with soapy fingers. You can almost breath again.

Next come the tedious hours as you and Brillo gang up on grimy tools. The cleanup crew at the firehouse is you. When windows need washing and toilets need cleaning and floors need mopping and beds need making- you do it. Fire and ice; they both go with the job.

Then there's that night another engine company gets there first. You see this wet- eared rookie hot- dogging ahead. His academy boots still shiny. You lose him inside the crackling dark. You forget about him until your helmet warning bell says "get out". The battalion chief is calling you off. You get out. He'd heard a scream from the bottom of burning basement stairs and he'd headed down there.

The other guy didn't. When on the bubbling tar- paper roof of the three- ton compressor broke through.

  That day we lost two. Oh yes, firemen cry. But only briefly because now comes the inevitable and ever- more paperwork just in case OSHA complains or somebody sues. Your B-crew pumper swapped his day shift so some family guy could be home foe his kid's birthday. Then outbound toward a false alarm your buddy gets blind- sided by a hot- rod driven by a drunk. Fire and ice.

The intercom barks again. This time it's a warehouse a big, fast, multiple blaze, probably torched.

On site engine men draped with icicles dragging a three- quarter pre- connect froze hose are waiting for your big line. Laddermen can't make the building without you. Search, rescue, ventilate. Eventually it's over and out. You're smoke smudged and sleepless and wrung out- but you won! Behind graffiti- fouled walls you saved what you could but the raging blaze that wanted to consume adjacent buildings but didn't- because you were there.

Back at the firehouse before cleanup you and the guys sit a spell- tired but stimulated- drinking coffee laughing, feeling good about one another. Nobody outside your world can ever know this feeling. In any other uniform you get streets named after you for killing people. In this one you risk your life to save people. Until one day you run out of chances and at one final fire either you buy it or you don't.

If you don't it's only eventually to be brushed off with a puny pension. Yet there's no third way you'd ever leave this job and you're doubting even God knows why. You're out of the shower now. Most of the grime and some of the cynicism are down the drain when you hear a strangely familiar voice saying, "Its worth it."

The quiet voice from nowhere is saying "For salvaging things and people from flames I have to rely on your hands." You look around; still nobody. But when you get over your incredulity you feel better. Suddenly today's crew cook in the kitchen hollers "Chow!" It's time to eat. It smells like roast beef today. That'll be good. But you'll eat fast. For any next alarm you'll want to be ready.

From the Paul Harvey News