Welcome!
Thank you for stopping by the Cicero Firefighters Union Web Site. Please come back often for updates.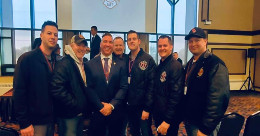 Cicero Firefighters walking in support of Sandoval. Cicero Fire Fighters Local 717 would like to thank the Senator for the great work he has been doing in the 12th district.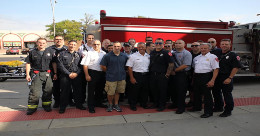 Cicero Local 717 Softball Team took 2nd place in Berwyn Local 506's Softball Tournament on August 8, 2011.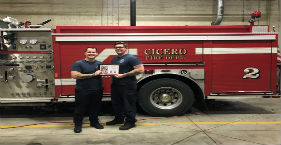 Cicero Firefighters presenting a check from our generous donations from citizens in the amount of $13,400 to support MDA! Thanks to everyone for making last years boot drive such a success.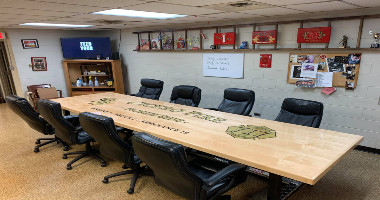 WhatsNew
Local 717 is proud of several of our firefighters that competed in the Scott Firefighter Challenge in Tinley Park from September 24 to 25, 2011. The following Members Competed: Matt Hill 2:10, Brian Kuluga 2:05, Brian McDonald 2:46, Joey Barratta 2:53, Kenny Pereya 2:51, Noah Buckley 3:07, Pat Sammon 2:36, Paul Lyttek 2:24, T.J. Santoro 2:56.
AFFINews
IAFFNews
Welcome to the Cicero Firefighters Web Site
Welcome to the Cicero Firefighters, International Association of Firefighters, Local 717 web site. Our Local is comprised of 64 members. We are affiliated with the International Association of Firefighters and the Associated Firefighters of Illinois. Our Local has endured many challenges over the years, but with the strong backing of our Union Membership and our Brothers and Sisters in the International Association Of Firefighters and the Associated Firefighters of Illinois we have prevailed in all of our battles. We appreciate you visiting our site and we hope you will return often to check out our updates.
Cicero & Chicago Firefighters Help Family
WGN News, December 24, 2014
Firefighters from Chicago and Cicero make a special delivery for a grieving family.
Miguel Haro, 44, was shot and killed during a robbery in Chicago's Englewood neighborhood, Sunday night. He was working on rehabbing a vacant home and refused to give up money he had been saving to buy Christmas gifts for his daughters, relatives said.
Chicago firefighters who responded to the scene pooled together resources with union leaders and firefighters in Cicero, where Haro lived. On Tuesday, they delivered money, gift cards, toys, and a tablet for Haro's two daughters, ages 4 and 10.
"While we know that giving them a tablet and some toys and food won't replace their father, we hope they'll be able to sleep a little easier tonight knowing their local firefighters and paramedics are thinking about their loss," said Tim O'Brien, public relations director for the Chicago Firefighters Union.
Promotion of Lt. Steve Fiore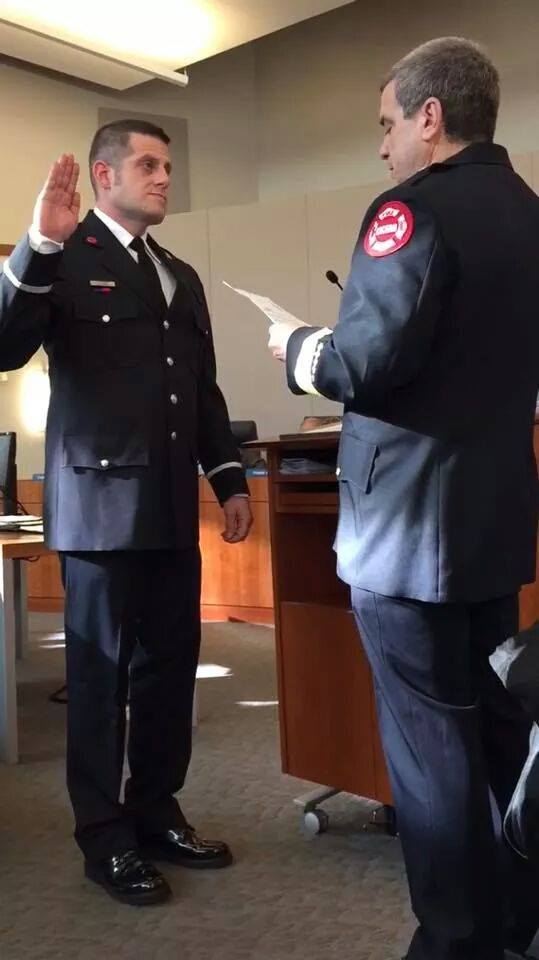 Congratulations to Steve Fiore on his promotion to Lieutenant.
L506 Softball Tournament
Cicero Fire local 717 members participated in the annual Berwyn Firefighters L506 softball tournament on Saturday August 4th in Berwyn.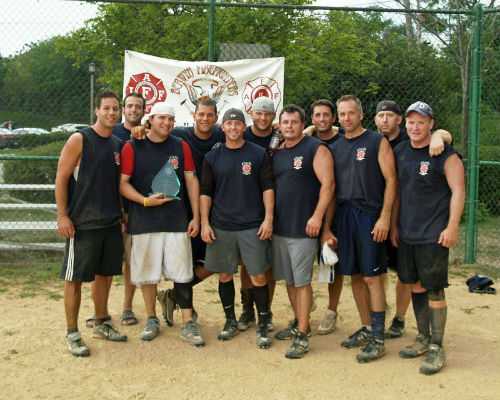 Cicero Fire placed in 1st place. (Photo credit by Engineer John Novacek L506)
Cicero Fire Local 717 Golf Outing
Cicero Firefighters would like to thank all who came out to support our annual Golf outing on August 7th 2012 at Oak Hills Golf Course in Palos Heights. We would like to especially thank our hole sponsors:
Freddys Pizza, Sam Bucas, Berwyn firefighters L506, Elizabeth "Lisa" Hernandez State Rep 24th District, Charles Hernandez Cicero Township Democratic committeeman, Robert R. Andreas & Sons, Inc. , RMB Heating and Cooling Inc., Crabbys Pub, Friends of Alderman Ted Polashek, Salvino Hauling, Lou Guido, Harolds, The Kempski family, Accurate Accounting Services, Carl f-Semrau DDS, Chicago Extruded Metals, The Wheelchair Shop, Inc., and The Democratic Citizens of Berwyn.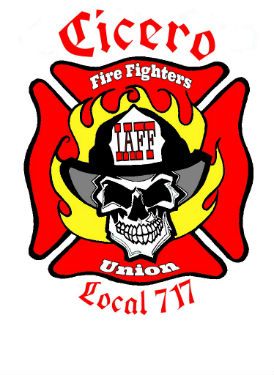 The above design was created and hand drawn by Lt. Stephen A. Fiore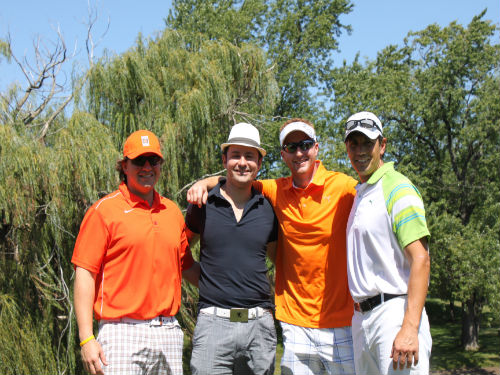 Members of L506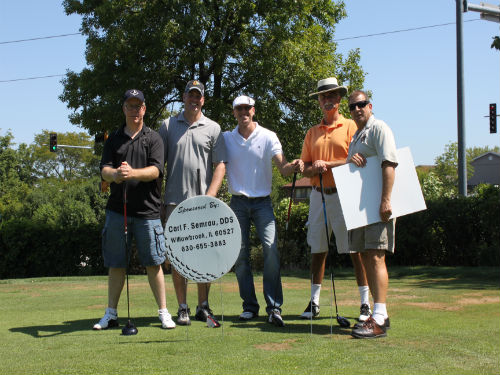 Members of L717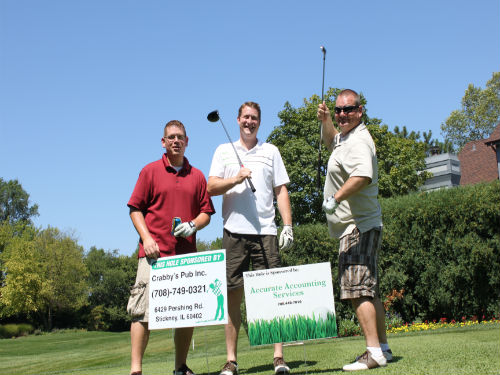 Members 0f L717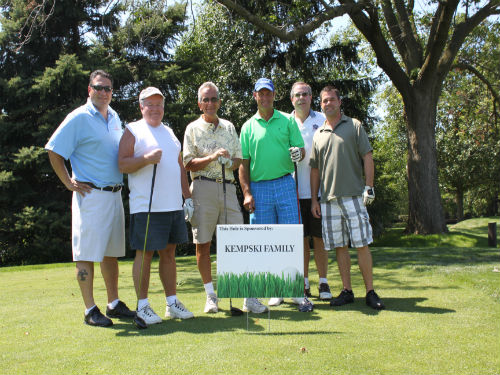 Current Members of Berwyn L506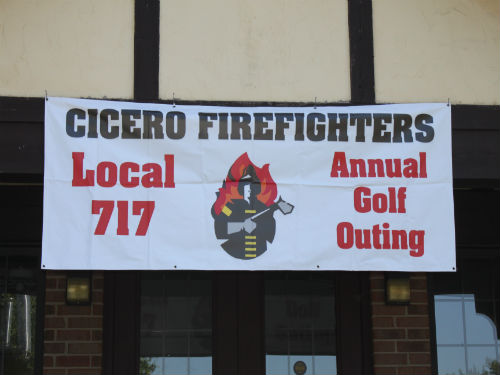 Welcome banner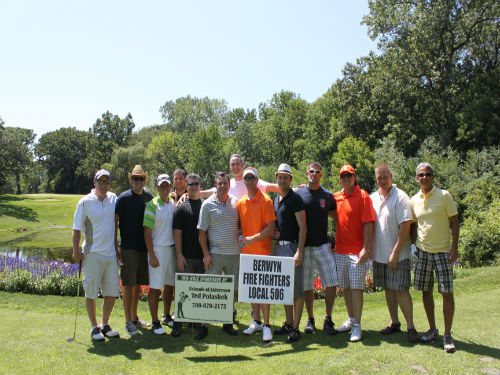 Current members L717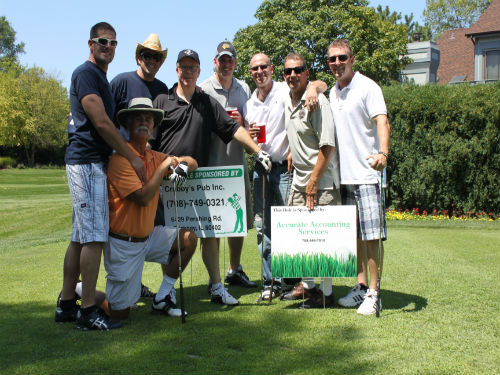 Current members L717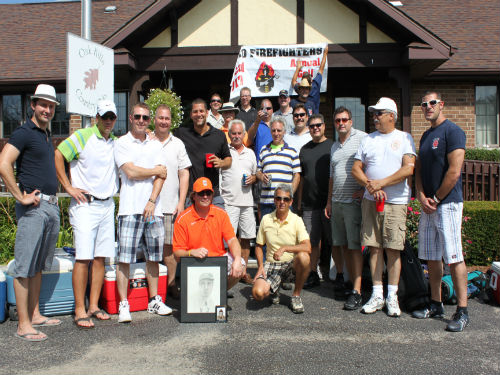 Current and retired members of L717
*Golf Outing photos taken by Engineer Andrew Michaels L717