Welcome!
Thank you for stopping by the Cicero Firefighters Union Web Site. Please come back often for updates.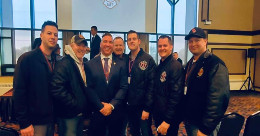 At AFFI Fran Gambro Legislative Conference Springfield, IL with Governor Elect JB Pritzker.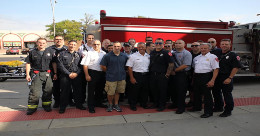 Cicero Local 717 Softball Team took 2nd place in Berwyn Local 506's Softball Tournament on August 8, 2011.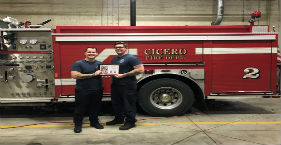 A big thank you to Cicero Firefighters Union Local 717! They raised $13,970 for MDA this year during their #FilltheBoot drive.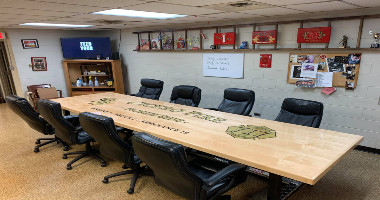 WhatsNew
Local 717 is proud of several of our firefighters that competed in the Scott Firefighter Challenge in Tinley Park from September 24 to 25, 2011. The following Members Competed: Matt Hill 2:10, Brian Kuluga 2:05, Brian McDonald 2:46, Joey Barratta 2:53, Kenny Pereya 2:51, Noah Buckley 3:07, Pat Sammon 2:36, Paul Lyttek 2:24, T.J. Santoro 2:56.
AFFINews
IAFFNews
Welcome to the Cicero Firefighters Web Site
Welcome to the Cicero Firefighters, International Association of Firefighters, Local 717 web site. Our Local is comprised of 64 members. We are affiliated with the International Association of Firefighters and the Associated Firefighters of Illinois. Our Local has endured many challenges over the years, but with the strong backing of our Union Membership and our Brothers and Sisters in the International Association Of Firefighters and the Associated Firefighters of Illinois we have prevailed in all of our battles. We appreciate you visiting our site and we hope you will return often to check out our updates.

Honored Members
At tonight's union meeting we honored Assistant Chief Pat DeChicio former Vice President and Lieutenant Harry Rutz former Secretary on their 10 plus years of service to the union. We thank these men for selflessly servicing the 717. Thank you!
4 Rescued, Several Displaced by Fire in Cicero Apartment Building
December 5, 2018 NBC Chicago
https://www.nbcchicago.com/news/local/4-rescued-several-displaced-by-fire-in-cicero-apartment-building-501972681.html?utm_source=dlvr.it&utm_medium=facebook
Four people were rescued after being trapped in a fire in Cicero that displaced more than a dozen people late Tuesday, authorities say.
The blaze began at around 10 p.m. in an apartment building near 16th Street and 51st Court, according to fire officials.
One resident named George said he heard an explosion before the fire began, saying "the explosion came in the building."
It started on the third floor, officials said, with firefighters arriving to find panicked residents who alerted them that people were trapped upstairs.
Firefighters rescued two women and two children, ages six and eight, from the building. They suffered from smoke inhalation but were otherwise uninjured, but taken to area hospitals as a precaution, authorities said.
The fire left several people scrambling for a place to live amid cold winter weather in the early hours on Wednesday.
"There's probably gonna be about 15 people displaced," Cicero Fire Chief Dominick Buscemi said. "We've got Red Cross coming now to help them out in this inclement weather."
The cause of the fire was not immediately clear as authorities continue to investigate.
Cicero & Chicago Firefighters Help Family
WGN News, December 24, 2014
Firefighters from Chicago and Cicero make a special delivery for a grieving family.
Miguel Haro, 44, was shot and killed during a robbery in Chicago's Englewood neighborhood, Sunday night. He was working on rehabbing a vacant home and refused to give up money he had been saving to buy Christmas gifts for his daughters, relatives said.
Chicago firefighters who responded to the scene pooled together resources with union leaders and firefighters in Cicero, where Haro lived. On Tuesday, they delivered money, gift cards, toys, and a tablet for Haro's two daughters, ages 4 and 10.
"While we know that giving them a tablet and some toys and food won't replace their father, we hope they'll be able to sleep a little easier tonight knowing their local firefighters and paramedics are thinking about their loss," said Tim O'Brien, public relations director for the Chicago Firefighters Union.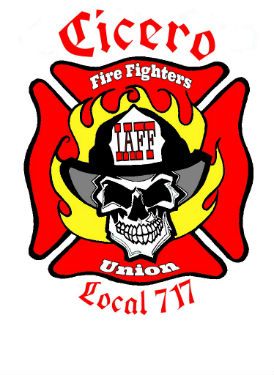 The above design was created and hand drawn by Lt. Stephen A. Fiore